Meet Ollie Peace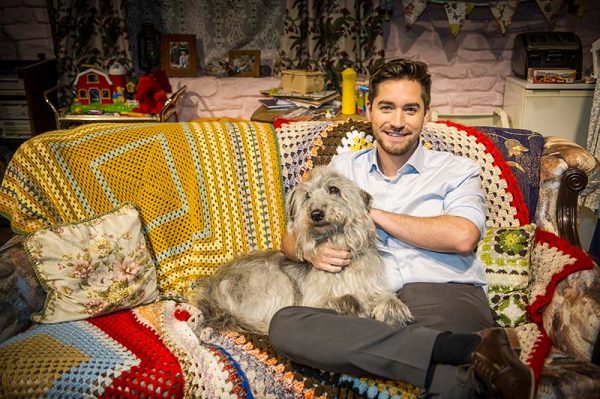 Ollie works at Emmerdale Studio Experience as Guest Experience Manager (yes, cuddling up on the Dingle's sofa with ex-cast member Alfie really is part of his job)! It's not all about canine cuddles though, Ollie works hard to create a fantastic experience that fans of Emmerdale will love, by understanding exactly what they want, and making that happen…
"It's 10am and I'm in the pub.
Not just any pub, either. It's only Yorkshire's favourite pub – The Woolpack, at The Emmerdale Studio Experience in Leeds.
I've actually just got off the phone with a top-secret special guest and confirmed their appearance for a special Halloween event we're planning. Just your standard morning.
It's safe to say however, that no two days are alike in my job. And that's what I love about doing what I do.
The very heart of what I do is always the guest, and the memories they create when they're with us. Having previously worked for Disney, I learnt that creating a great visitor attraction is understanding and knowing what the people want, and creating it just for them.
The Emmerdale Studio Experience gives guests a unique insight into the entire production process of the nation's favourite soap (I can say that, because it is – Emmerdale won Best Soap at this year's National Television Awards!). When I stepped into the role of Guest Experience Manager here, my personal goal was to deliver a more immersive and authentic tour for the fans, getting them that little bit closer to the characters, places and stories they know and love.
Let's be clear, you won't meet Cain Dingle when you come to The Emmerdale Studio Experience (soz!), BUT you can see (and touch – if that's your thing) his actual costume taken straight from his clothes rail, along with the costumes of other fan favourites, such as Robert, Aaron (#RobRon), Val Pollard and the dearly departed Edna Birch.
I want to deliver fresh and exciting new content as well as remain true to the show's roots, and ultimately that has been about building and nurturing a strong relationship with the teams at ITV who deliver six episodes of Emmerdale each and every week.
Working directly with the show's producers, art directors, costume, makeup and props teams has not only been crucial in delivering the authentic elements from Emmerdale into the Studio Experience, but has also been incredibly rewarding on a personal level. What never ceases to amaze me is the passion and dedication that every member of the team working on Emmerdale demonstrates, day in and day out. And it really shows!
Within the past few weeks, we created two pop-up exhibits showcasing the costumes and props from two of this year's biggest storylines – RobRon's second wedding, and the masquerade ball during which super 'soap bitch' Kim Tate made a comeback.
Running for a limited time only, each of these exhibits offers Emmerdale fans a unique opportunity to immerse themselves further into their favourite soap and get up close to actual costumes and props used during these popular episodes.
For me, it's not enough to simply have our guides talk about the storylines and characters – I want our guests to be able to see the dress worn by Kim Tate as she was pushed from the balcony in Home Farm, the suit that Joe Tate was wearing during his final moments on screen, and to clock the details in the props that were created just for Robert & Aaron's wedding episode. All the while, learning about how all the different departments work together to create some of TV's most incredible drama.
And it's working alongside the team on Emmerdale that I'm able to bring our guests closer than ever to their favourite soap.
I'm confident that even non-fans leave the attraction in awe of all the work that's done behind the scenes to bring Emmerdale onto the nation's screens six times a week. It's sometimes so easy to forget that behind the camera is an entire production team made up of close to 400 people working across departments such as costume, make-up, lighting, sound, editing, props, press, and digital.
And once you've had your fill of masquerade balls, helicopter crashes and cellar floods, guests finally get to give their feet a rest in our incredibly detailed replica set of The Woolpack.
Emmerdale recently celebrated its 46th anniversary, and it really is going from strength to strength, leading the way in serial drama. If I can do it any justice in giving the fans what they want from their visit to The Emmerdale Studio Experience, then I reckon I've done a decent job!"
---
The story doesn't end here…
At Continuum Attractions, we employ passionate, dedicated team members who understand the importance of the guest experience and go above and beyond to make that happen. Want to be part of that? Take a look at our latest job vacancies.
If you're looking for attraction expertise for a future project, why not find out more about collaborating with us or find out how we worked with The Void to  bring their hyper-reality experience to life in the UK… in just 8 weeks!